Hi Guys
I am sorry I can only write this post in English....I do not speak German!! Sorry!
This is my first post on this forum but I have been a member of Basschat in the UK for several years. My user name on Basschat is the same....surfguy13. A guy (Danesh) I met on Basschat suggested I join Bassic.ch. It is good to be here.
I am trying to sell one of my basses as I may buy a bass that is for sale on Basschat. So......I have decided to sell my old 1976 Fender P bass. It has a very wide and deep neck and as I am a guitarist that plays bass, not a
pure
bass player, I find the neck a little bit too big.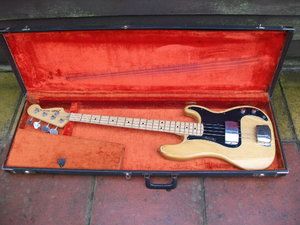 OK, the important things!!
The bass weighs 9.2lbs which is pretty good for a 1970s P bass and feels very well balanced on a strap. I am 99.9% sure the bass is all original but please look at all the photos on my Image Shack page to confirm this. There many photos here:
https://imageshack.com/a/ZPlQ/1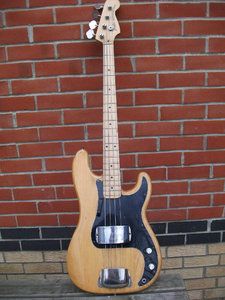 I took measurements of the neck for with a digital caliper so you should get a good idea of the width and depth:
Neck width behind the nut: 42.00 mm
Neck width at 1st fret: 43.13 mm
Neck at 12th fret: 57.57 mm
Neck depth at 1st fret: 22.45 mm
Neck depth at 5th fret: 26.04 mm
Neck depth at 12th fret: 26.08 mm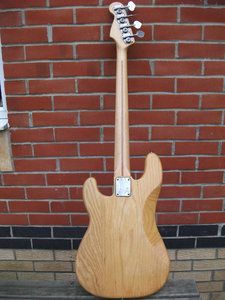 I have owned the bass for approximately 25 years and I imported it from a blues bass player in Los Angeles. I have never gigged this bass, it has been played by me at home and for recording at home. As I explained, I am a guitarist so I use a bass for helping me write.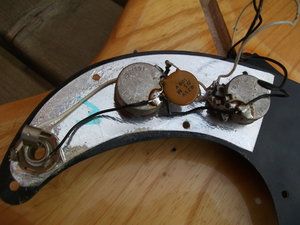 The frets are good and they are the original frets. They play well and with no issues. The trussrod works fine with no problems. The electrics are all original and the pots are dated 1976. The electrics also work fine. Tuning is very stable and the tuners are smooth. The bass is the original 'natural' finish and it has not been refinished.
I am interested in a Parker bass that is for sale on Basschat at the moment so I would prefer a straight cash sale but I would consider a part exchange or a straight trade. I would be interested in a Fender Custom Shop Jazz bass as a trade. I have a '78/'79 P bass and also a Martin E-18 bass so I would like a Jazz because the neck is a little smaller and it will give me a lot of different sounds from the P bass and the Martin E-18.
Please contact me if you need any more information, I am very happy to provide anything you need. I would like to sell the bass for £1450 (GBP) which I think is a fair price as it is all original and it has its original case.
Best wishes from Cambridge!!
Guy